THE EVDC®100 WINS MOTOR MAGAZINE
TOP 20 TOOLS AWARD FOR 2020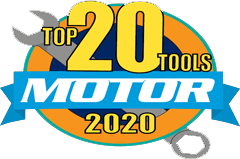 The model EVDC®100 is a globally OEM approved, mobile A/C Electronic Variable Displacement Control Valve tester tool designed for use by professional technicians. It has been reported that this tool could potentially reduce compressor misdiagnosis and "NPF" (no problem found) returns by as much as 53%. This Control Valve tester tool is basically an A/C variable compressor stroking tool separating the compressor in the vehicle from its on-board computer system to perform the diagnosis. In less than five minutes, the tester assists a technician in diagnosing mobile air conditioner problems with external control valve compressors. By manually controlling the operation and function of the valve, it lowers repair costs, service time, and eliminates a compressor misdiagnosis and an unnecessary compressor replacement.

For additional information view an action video of the EVDC®100 tester or contact Tech Professional Service Tools, Customer Service Department, 2651 West 81st Street, Hialeah, Florida 33016, or call 786 235 1200.